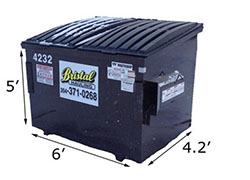 4 Yard Dumpster
The 4-Yard Dumpster is good for commercial businesses, mid-sized retail stores, restaurants, and offices with up to 50 employees.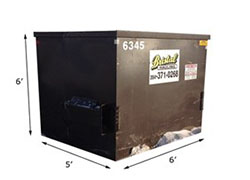 6 Yard Dumpster
The 6-Yard Dumpster is good for mid-sized to large retail stores, new home construction, restaurants, and offices with up to 100 employees.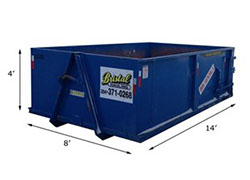 12 Yard Dumpster
This 12-Yard Dumpster is good for mid-sized to large businesses where low side walls are necessary. At a height of 4 feet and maximum load capacity of 4 metric tonnes it's great for your next renovation or small project!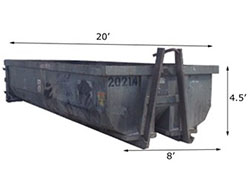 20 Yard Dumpster
This container is designed for residential or commercial projects that require heavy duty hauling. At a height of 4.5 feet, it's easy to load your concrete, dirt, etc. With a maximum weight limit of 10 000 kg, we can haul whatever you have.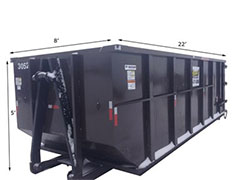 30 Yard Dumpster
One of our most popular sizes, these dumpsters accommodate virtually any project.This dumpster is designed for medium-to-large projects, such as interior remodeling, de-cluttering, construction, demolition, or other projects. It's the optimal size for trash removal during your next renovation.
Unacceptable Materials
Unacceptable Materials in any of the above listed containers include:
Oils, Paints, and any other Liquids
Hazardous Material
Bio-Hazardous Material (i.e. caucasus)
Batteries
Tires
Refrigerants (anything that has or had freon)
Compressed Tanks (i.e. propane tanks)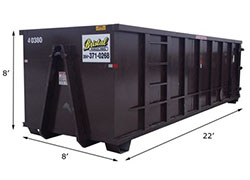 40 Yard Dumpster
These are the largest of all Bristal Hauling dumpsters. They are ideal for larger construction projects, industrial firms, and perfect for jobs further than 60 kilometers from Niverville.
Residential Garbage Pick Up Schedule
Please Call or Email for availability.
Other sizes and types of containers available such as: Compactors, Recycling Containers, Sealed Containers, etc. upon request and if criteria is met.
Contact Us!